Penetration testers know all too well the pain of manual reporting processes. That's especially true for pentesters who work for security service providers and who perform pentests and have to manually write reports — again and again.
For pentesters, the benefits of adopting a reporting automation solution may seem obvious. But practice managers aren't always aware of the pain points of practitioners. Even if they've been a practitioner, an MSSP practice manager has many new issues critical to business success vying for a limited budget.
Fortunately, reporting automation has significant value for both pentest practitioners and practices offering pentesting services. Understanding and taking advantage of those benefits can be a huge win-win for everybody reliant on the penetration test report — including clients.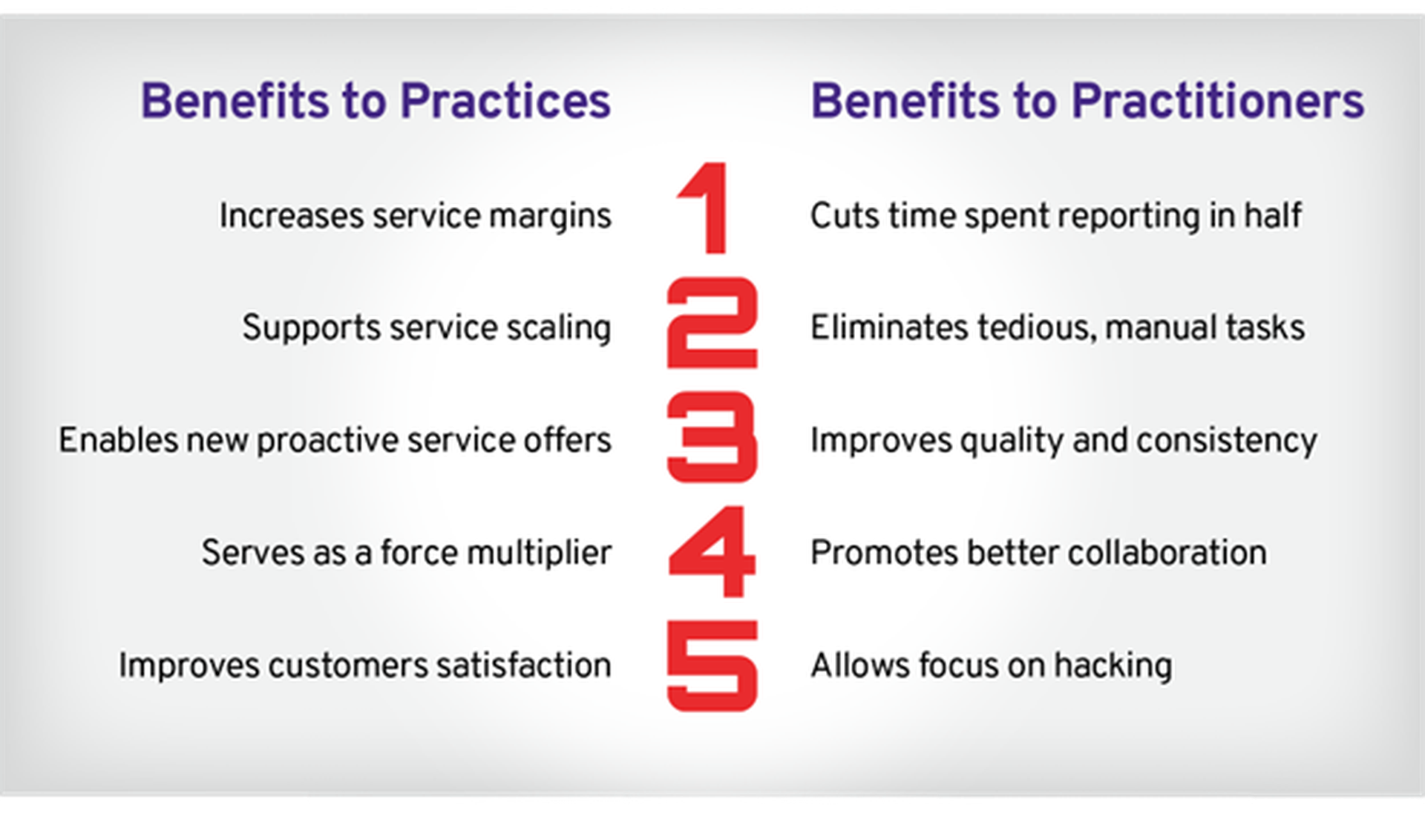 Benefits of Pentest Reporting Automation for Security Service Provider Practices
For businesses providing security services, reporting automation can create a foundation of efficiency on which to build more effective workflows and communication processes among team members and with customers. Reporting automation can deliver the following benefits pertinent to the business goals of a pentesting practice:
Increases service margins
Supports service scaling
Enables new proactive service offers
Serves as a force multiplier
Improves customer satisfaction
1. Increase Margins on Security Services
According to a recent Forbes article on scaling professional service businesses, "Streamlining and automation are key. With a service-based business, the primary investment is human capital since it will be your team who will be providing the servicing."
Driving efficiency in the pentesting or assessment workflow through automation can reduce time spent reporting by 50% or more with the right solution. Performing engagements in half the time translates to higher profit margins and the opportunity to conduct more engagements with the same or new clients, thus increasing capacity with existing resources.
2. Scale Your Security Services
Once efficiency is optimized, automation can also improve utilization by ensuring time is spent on the right work. As a result, providers can scale service delivery to grow the business. The 2023 Professional Services Maturity™ Benchmark notes, "To improve utilization, PSOs [professional services organizations] must improve resource management effectiveness." A reporting automation solution can increase effectiveness by maximizing human resources (not to mention improving morale!) and leveraging technology to scale service delivery.
3. Enable the Creation and Delivery of New Service Offerings
A reporting automation solution can help not only scale existing service delivery, but also support the creation of new SKUs to sell. Reporting automation supports new service offerings in two ways. First, an automation solution makes time for new services by automating manual workflows to free up time for practitioners to perform new and different types of engagements and communicate more frequently with clients. Second, a robust automation solution with analytics, test planning, and collaboration features can support new offerings around specific threat vectors, purple teaming-type engagements, framework-based assessments, and more.
4. Serve as a Force Multiplier for the Team
Leveraging automation to build efficiency and effectiveness in pentesting and assessment workflows will stretch your human resources further by providing skilled practitioners with more time to focus on the most important work. Additionally, a reporting automation solution can help junior team members become more effective faster by giving them access to pre-built test plans and collective knowledge bases, and reduces friction in collaboration.
5. Improve Client Satisfaction and Their Outcomes
Adopting a client-centric approach to service delivery will pay dividends in customer satisfaction. Here, too, reporting and workflow automation can ensure deadlines are always met and recommendations are actionable and communicated clearly to all stakeholders. When clients are happy and begin to see value in the form of measurable progress on their security posture, you'll have the platform on which to further grow the relationship.
Benefits of Pentest Reporting Automation for Security Practitioners
In addition to providing business value, reporting automation also improves the daily work of the pentester and any editors or reviewers. The dramatic increases in productivity and elimination of manual administrative tasks that automation supports improve the morale of the whole security team, while also ensuring business outcomes are achievable. Reporting automation benefits for practitioners include:
Cuts time spent reporting in half
Eliminates tedious, manual tasks
Improves quality and consistency
Promotes better collaboration
Allows focus on hacking
1. Cut Time Spent Reporting by 50% or More
Automating data aggregation from industry standard tools and manual testing, quality assurance workflows, report building, and findings delivery dramatically reduces the time a pentester spends on an engagement. More importantly, the time saving is on tedious, administrative and error-prone tasks. Quality, morale and customer satisfaction improve, while frustration, manual effort and errors decrease dramatically.
2. Eliminate Tedious, Manual Tasks throughout the Workflow
Pentest reporting automation isn't just about the report. Automation solutions actually improve the workflow throughout the engagement from streamlining planning and communication with the client to enabling dynamic delivery of findings — and everything in between.
3. Improve the Quality and Consistency of Deliverables
Reporting automation improves the quality of the deliverable by creating consistency in every report across all testers. Quality assurance processes become simpler when performed in a dynamic environment. And errors are mitigated when you can avoid copying and pasting findings writeups and narrative content from older reports or disparate storage repositories.
4. Promote Better Collaboration between Team Members and to Clients
A reporting automation platform consolidates communication into a single location to keep everything related to an engagement together. Whether collaborating between team members to build and triage a report or communicating about engagement scoping or results to clients, a single solution to house everything ensures clarity, consistency and efficiency.
5. Allow Practitioners to Focus on the Most Critical Work — Hacking
Ultimately, what benefits a pentester will benefit the practice. Reporting automation eliminates the manual work throughout the pentesting life cycle so that your highly-skilled professionals can spend more time actually testing and less time consolidating findings, editing writeups, documenting their evidence, and formatting templates.
Reporting automation is a win-win for everyone at an MSSP, and for your clients.
Blog courtesy of PlexTrac. Regularly contributed guest blogs are part of MSSP Alert's sponsorship program. Read more PlexTrac blogs here.